PGY-1 | PGY-2 | PGY-3 | PGY-4 (Chief Residents)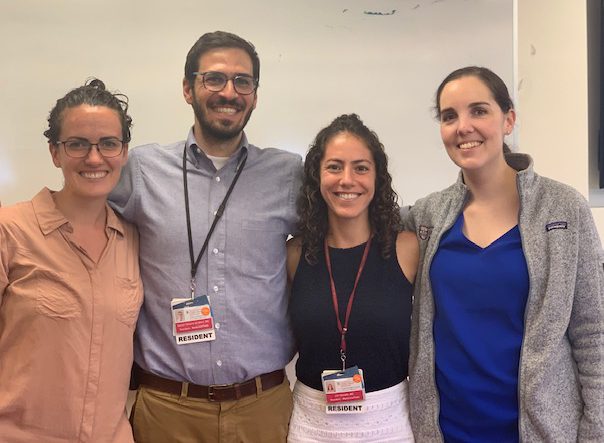 Erin
Hickey
University of Colorado Medicine
Erin graduated from Northwestern University. At the University of Colorado, she is a member of AOA and the Gold Humanism Honor Society. She has conducted research on Down syndrome and autism and received over $60,000 in funding for this work. Erin is committed to working with underserved populations, Latino populations, and individuals with developmental disabilities. In her spare time, Erin has hiked over a dozen 14,000 foot mountain ranges in Colorado and has run two marathons thanks to the training with her labrador, Cooper.
Stephanie
Kelly
McGill University Medical Center
Originally from Melbourne, Australia, Stephanie graduated from Cornell University. At McGill, Stephanie earned several honors for her academic performance. She has conducted bench and clinical research, most recently in systemic sclerosis. As an editorial assistant for the New York Academy of Sciences, Stephanie wrote and edited reports of several scientific conferences resulting in 8 publications. Having worked with disadvantaged adolescents, Stephanie wishes to focus her academic practice on addressing the medical and social vulnerabilities many adolescents experience in their transition to adulthood.
Jori
Sheade
Jori grew up in Evanston and graduated from Duke University. At Duke she conducted preventive health research on HPV vaccination in boys and received a grant from the Duke Global Health Institute to compare the nutritional status of children in Kenya enrolled in the local NGO's daycare program to age-matched controls in the village, resulting in poster and oral presentations. Jori graduated as a member of AOA and the Gold Humanism Honor Society from Rush, where she was active in global health, underserved community health and advocacy, and medical education. Jori enjoys hiking, camping, running, biking, traveling, and reading fiction.
Daniel
Teixeira da Silva
Boston University Medical School
Daniel was born in Brazil and graduated from Wesleyan University. At Boston University, Daniel was the recipient of several merit scholarships. His strong interest in HIV led to several research and advocacy experiences and journal publications. He worked at MGH's community health center network, volunteered at the Thai-Burma border working with refugees, and worked in the slums of Brazil. He has a strong interest in HIV, social determinants of health for vulnerable adults and children, global health, and academic medicine. Daniel loves music and spending time with his wife and family.