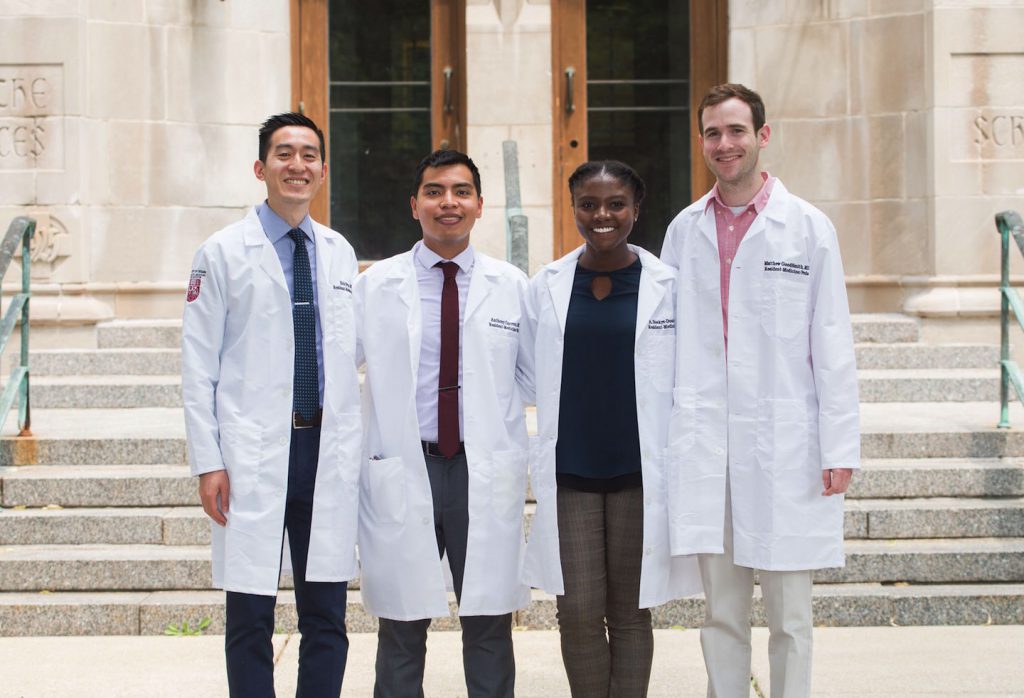 Aretha
Boakye-Donkor
Aretha was born and raised in Ghana before moving to Tampa, FL. She majored in Health Science with a Public Health concentration while at the University of Florida (Go Gators!). Shortly after graduation, Aretha relocated to Chicago to start medical school at Rush Medical College. She was Vice President of the Student National Medical Association at Rush and student leader of Oakley Square Wellness Program, where she and her team led weekly wellness initiatives for women residents of the mixed-income housing. Aretha was selected as a Summer Research Fellow with a dedicated month in Ghana to study pediatric sepsis at various institutions. In her final year at Rush, Aretha founded Building Blocks: Pediatric Scholars Program to create a space for underrepresented minorities in medicine to interface with medicine  through mentorship, clinical engagement, community service and didactics. In addition to her extracurricular passions, Aretha was awarded the Rush Medical College Clinical Excellence Award. Brunching and planting are two of her favorite ways to practice self-care.
Anthony
Carrera
University of Illinois at Chicago
Anthony was born in Chicago and raised in the Albany Park neighborhood where he attended Chicago Public Schools. He obtained his undergraduate education at the University of Illinois at Urbana-Champaign and majored in Psychology. His background led him to experiences working with children with behavioral and emotional disorders at a group home in Urbana, IL and a behavioral facility in the Garfield Park neighborhood of Chicago. He was an Alzheimer's Disease research assistant and developed an interest in clinical research, health disparities in the elderly, and in particular, the elder LGBTQ+ community. As a medical student at UIC College of Medicine, he participated in monthly health fairs working with an underserved group in the Pilsen neighborhood of Chicago through the Latino Medical Student Association. He conducted research on disparities in out-of-hospital cardiac arrest outcomes in the different neighborhoods of Chicago. During the COVID-19 pandemic, Anthony was drawn to action by becoming involved with the Illinois Unidos Coalition, which aims to reduce the impact of COVID-19 on the Latinx and other affected communities in Illinois. In his free time, Anthony is an avid gamer, likes taking walks along the beautiful lakefront, and enjoys trying new restaurants and exploring the Chicago nightlife.
Matthew
GoodSmith
Matt grew up just west of Chicago in Oak Park, IL. He studied geology in addition to pre-medical studies at Amherst College. After graduating, Matt performed bioinspired mineralization research in the Netherlands for a year as a Fulbright Research Fellow. Upon returning to the US, Matt worked as a medical scribe at an outpatient clinic on the South Side for a year before starting medical school. As a medical student at UChicago, Matt developed a computer model to assess the cost-effectiveness of a novel genetic testing strategy for MODY diabetes in pediatric patients, and he also did work exploring olfactory loss in patients at high risk for Alzheimer's dementia. Matt was also heavily involved in the student-run free clinics and co-organized a phone service to provide longitudinal follow-up for patients diagnosed with COVID-19 during the height of the pandemic. His career interests include underserved primary care and endocrinology. Outside of medicine, Matt has a background in jazz trumpet and can be found strumming a ukulele from time to time. He also enjoys exploring parks, forest preserves, and restaurant patios with his wife and his dog.
Eric
Sun
Eric is from Rocky Hill, CT, and attended Brown University for his undergraduate studies, where he majored in Biology. Following graduation, he worked for several years in health care consulting in Washington, DC, where he also volunteered extensively with homelessness organizations. He attended Columbia University Vagelos College of Physicians and Surgeons for medical school, where he participated in the Columbia-Bassett track. In medical school, he conducted research at the New York City Department of Health and Mental Hygiene on epidemiological surveillance of federal policy changes. He also volunteered at the Columbia-Harlem Homeless Medical Partnership (CHHMP) student-run free clinic, where he developed his interest in primary care. He took a gap year to obtain his MPH at Harvard University in Health Policy, where he was a Zuckerman Fellow at the Center for Public Leadership. He is interested in pursuing a career in primary care for underserved urban populations and transforming health care delivery to address social determinants of health. In his downtime, he enjoys cooking, eating, and watching people cook and eat on Youtube.